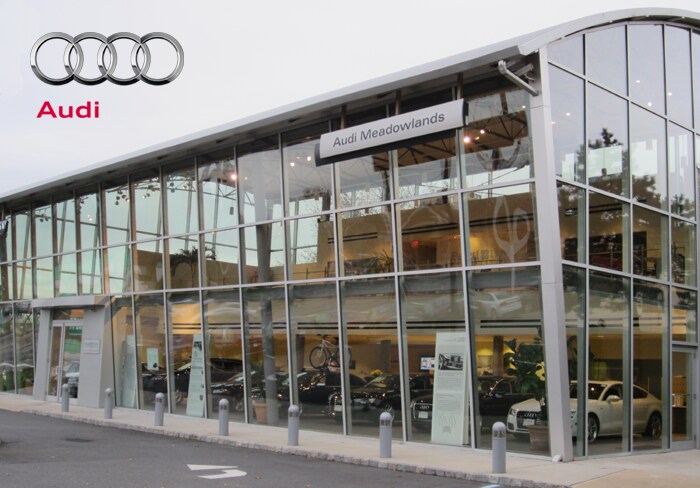 Audi Meadowlands, powered by Benzel-Busch Motor Car, is one of the area's newest Audi dealerships. Our new Audi showroom is in Secaucus, New Jersey, and our service, parts, and pre-owned center is easily accessible from many major highways in North Bergen. Both Audi locations are convenient to Northern New Jersey, New York, and the entire Tri-State Area.

At Audi Meadowlands, not only is our staff highly trained in all things Audi, but they are also trained to deliver a quality luxury experience to every single person that steps foot in our NJ Audi dealership. We have developed a single point of contact philosophy in order to make your Audi buying experience more personal and much easier. We work harder to make things easier for you. We strive for quality across every touch-point. It's how we elevate the standard; it's the Benzel-Busch way.

Elevated standards at Audi Meadowlands don't stop when you've left our Audi showroom… your Audi Meadowlands service experience is just as impressive. A state-of-the-art Audi service facility with certified Audi technical staff, extended service hours, and a full fleet of Audi loaner vehicles are just the beginning.  

Our meticulous attention to detail and elevated customer care standards has helped us achieve one of the highest customer satisfaction ratings of any Audi dealer in NJ or any Audi dealer in NY.  
Your entire ownership experience is backed by the full complement of the Benzel-Busch organization. 

Rich History of Elevated Standards
You may not know this, but Audi Meadowlands is part of the Benzel-Busch family of dealerships. Benzel-Busch is a family owned and operated business, and in addition to our Audi dealership in NJ, there are two other sister dealerships in NJ that service New York and the entire Tri-State area.

Delivering an elevated experience to our customers, far from the standard you find in the large, impersonal highway dealerships, is very much the Benzel-Busch way and the only way we do things at this Audi dealership.

For nearly half a century, Benzel-Busch Motor Car has been elevating the standard of excellence in the automotive space.

Our luxury car dealerships in New Jersey are operated by the Agresta family, a family with deep roots in the automotive space, a family that takes great pride in what they do, just as much as who they do it for.

All of our dealerships are located in Northern New Jersey and are convenient to New York City and the entire Tri-State area.

Expect More at this Audi Dealership
At all Benzel-Busch dealerships, there are certain things you can always expect: the finest and largest selection of vehicles; the highest level of service at every encounter with our highly trained staff; state-of-the-art sales and service facilities; our signature concierge service; and a wide range of service offerings centered on a reputation built upon a foundation of honesty, transparency, and trust.